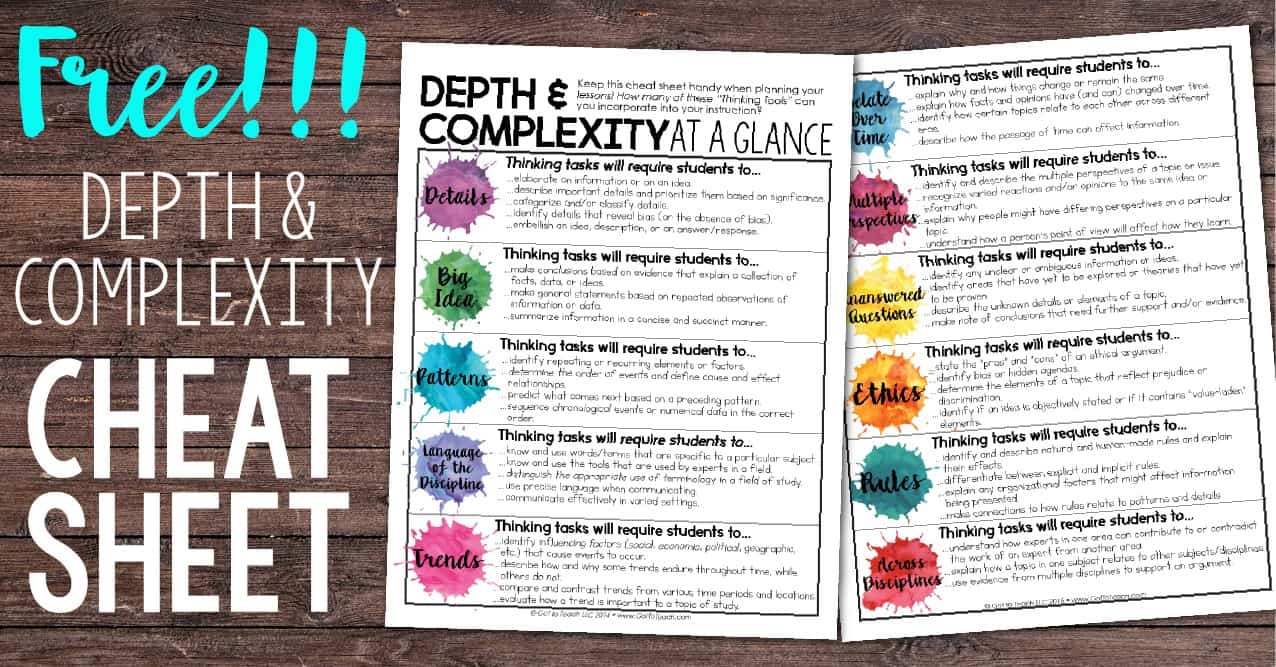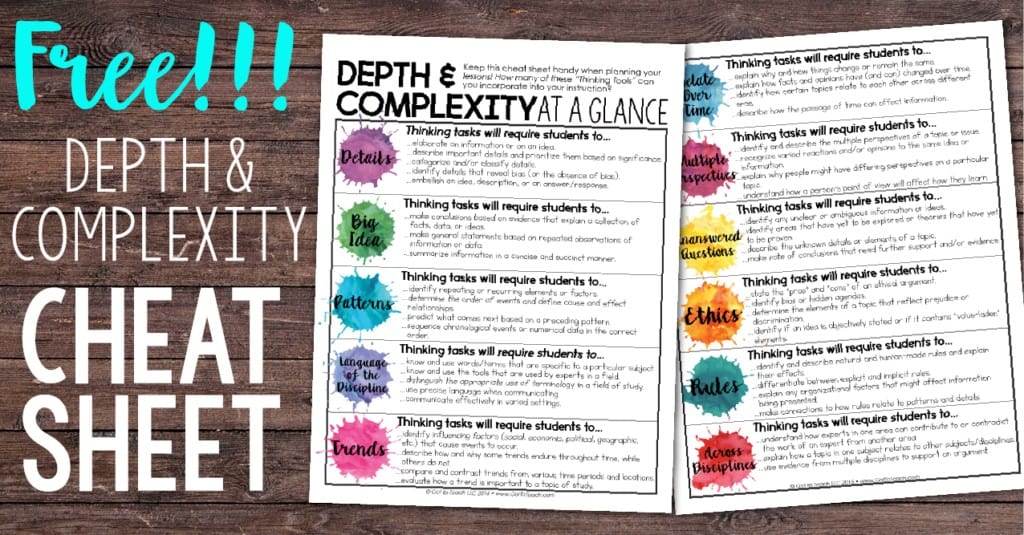 Do you teach with Depth and Complexity?
As teachers, one of our most important goals is to teach our students to think critically.  This life-long skill really transcends all programs, standards, and curriculums.  If we can teach students to think critically, success will follow.  It sounds so simple, yet we know it can be a daunting task.
One of the most effective ways I have found to accomplish this goal is by incorporating 11 powerful elements of Depth and Complexity into my instruction.  These "thinking tools" were developed for the U.S. Department of Education by Dr. Sandra Kaplan in the early 1990s and they really stand the test of time.  They are powerful and enduring tools that we can not only use to design lessons, but that can also be directly taught to students.
I created a handy cheat sheet of these 11 "Thinking Tools" that you can download for free. Just enter your email address below, and I will immediately send it to you.
The information can be a bit overwhelming, but I promise you incorporating this into your instruction is WELL worth it.
Here are a few pointers for you to get started:
1. Print the Critical Thinking at a Glance "cheat sheet" and keep it near you when lesson planning and when having class discussions. It can really help you elicit student responses for each of the "Thinking Tools".
2. Start off with incorporating just a few of these "Thinking Tools" at a time.  Don't even look at the rest, and really just focus on learning and teaching 2-3 at a time.  This is especially important if you teach younger students or students who are completely unfamiliar with these "Thinking Tools".
3. Teach one "Thinking Tool" at a time using something the students are already very familiar with, like a picture book that they have read multiple times.  I use fairytales for this, but you could also use familiar fables and myths too.
4. These are not just for gifted or high-achieving students.  Make sure you are using these with your English language learners, special needs students, and on-grade level students as well.  They will benefit greatly from these and will really rise to the occasion.
5. Don't try to hit the ground running.  It's okay to really take your time with implementing these. The benefits will not be lost, I promise you!
6. You can also download these FREE Critical Thinking Bookmarks for a quick and easy tool to use in your classroom.