"Circle Chats," today's cooperative learning strategy, in another great way to get your students out of their seats and interacting!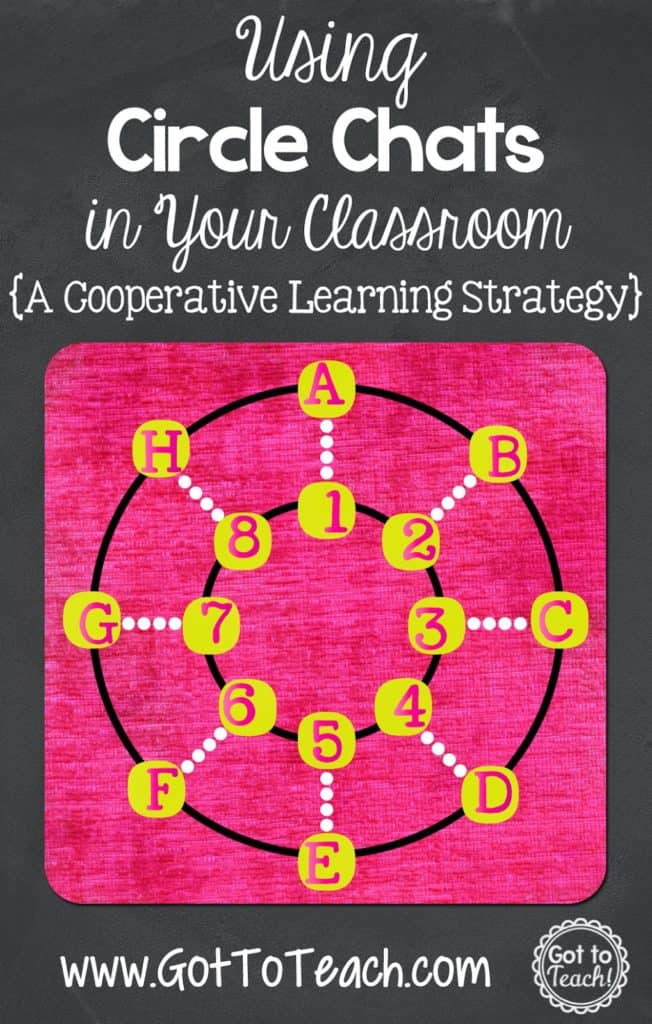 How It Works:
Divide your class in half. One half will create an inner circle; the other half will make up the outer circle.
Students in the outer circle can ask a question of the students in the inner circle. These questions can be self-selected by the students or you can make your own question(s).
After a set period of time, the teacher signals and the inner circle rotates and pairs-up with a new student.
Once the group has completed a full rotation, the inside circle and the outside circle trade positions and repeat the steps above.
Why I Love This:
Listening and Speaking Practice: This activity allows students to practice active speaking and listening skills.
Active Engagement: Students are constantly moving and/or switching roles. This variety keeps students engaged and on task.
Safe/Comfortable: Talking one-on-one with each other is far less intimidating than talking to a small group or to the whole class. This is a great activity to help build confidence in students who are reserved or afraid to speak in front of others (ELLs).
Ownership: One option for this activity is to have students create their own questions (which they LOVE doing). They really take this task seriously and become quite invested in the process.
I have enjoyed sharing some of my favorite cooperative learning strategies with you. In case you missed the first two posts, you can find them here:
Expert Groups
and
Q and A Match-Up