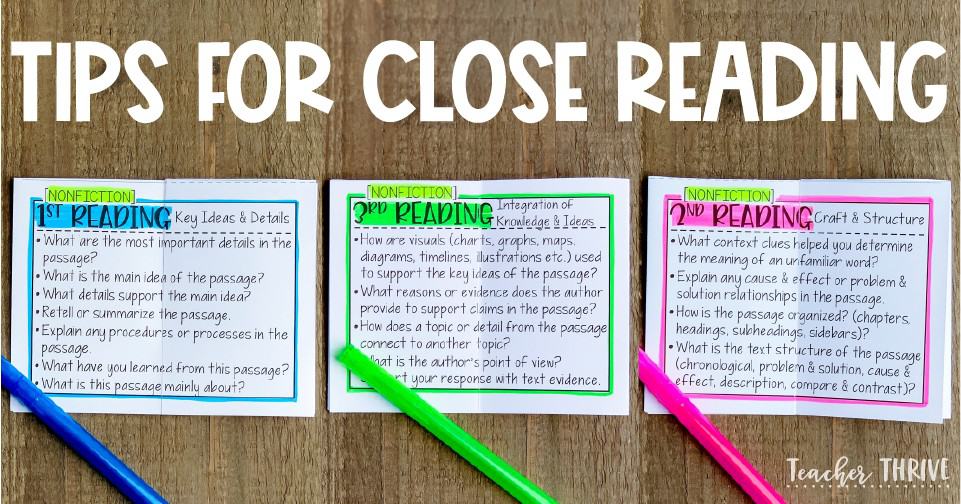 Close reading is a thoughtful and critical analysis of a text.  It focuses on significant details or patterns to develop a deep, precise understanding of the text's structure and meaning. During close reading, students read and reread short passages, articles, and excerpts while responding to text-dependent questions.
Choosing the Right Texts for Close Reading:
When it comes to the perfect text for close reading, the phrase "quality over quantity" comes to mind.  Worthy texts for close reading include enough complex ideas that can sustain in-depth exploration and discussion for multiple interactions (many lessons, days, guided reading sessions, etc.).
Questions to Consider When Selecting Texts:
Does this text include information or ideas that develop my students' understanding of the topic?
Do my students have the necessary background knowledge to be successful with this text?
Does the text include a text structure or pattern that my students need to understand?
Will this text interest my students?
Is this text the appropriate reading level for my students?
Know the Steps of Close Reading:
1st Reading: Key Ideas and Details
Students complete the first reading with minimal to no pre-reading activities (e.g., building background knowledge, previewing the text, etc.). Focus on the key ideas and details of the text (the "who," "what," "when," "where" questions). Key ideas for fiction texts are story elements such as characters, theme, and setting. For nonfiction texts, key ideas include the main idea and supporting details.
2nd Reading: Craft and Structure
During the second reading, students will focus on the most complex sections of the text. The goal for this reading is a deep understanding of the text. Think of the center levels ("Understanding" and "Applying") on Bloom's Taxonomy. Questions for fiction texts will focus on word choice (e.g., connotation, alliteration, etc.), plot structure, or author's purpose. Fiction text questions will examine context clues of unfamiliar words, text structures, and relationships (e.g., cause and effect, problem and solution, etc.).
3rd Reading: Integration of Knowledge and Ideas
The third reading falls on the higher levels of Bloom's Taxonomy ("Analyzing," "Synthesizing," and "Evaluating"). This step requires students to complete cross-text analysis and evaluate the validity of the authors' claims. Fiction text questions might examine how a theme of one story compares to that of another, or how a topic in the story connects to a real-life event. Questions for nonfiction texts will focus on the use of visuals (multimedia, charts, graphs, diagrams, etc.), supporting evidence, and the author's point of view.
I created these free close reading mini-books to guide your students through the three steps. There is one mini-book for fiction texts and one for nonfiction texts. Both mini-books come in two versions: One version is filled out, and the second version contains blank spaces where students can take their own notes. Just enter your email address in the form below, and they will immediately be sent to you. If you don't see them in your inbox, check your spam/promotions folder. To ensure delivery, avoid using a school email address.
Scaffold the Close Reading Process
Ultimately, we want students to read complex text independently. However, in reality, this is not something many students can do without some support. Follow the "To Students, With Students, By Students" continuum when teaching students to close read.
To Students: "I DO"
In this phase of instruction, you are offering the highest level of support through teacher modeling. Activities such as Shared Reading and interactive Read Alouds are key at this point. You are showing them the exact steps of close reading (model, model, model!).
With Students: "WE DO"
After you have thoroughly modeled the process, it's now time to release some of the responsibility to the students gradually. In this phase, students will assume a more active role in the process with your support. This can take place within a small-group setting, such as a Guided Reading lesson.
By Students: "YOU DO"
Once students have successfully progressed through the two previous phases, they are ready for independence. Keep in mind, independence is not a permanent state for students. As texts become more complex, you will need to revisit "I do" and "We do" instruction.
Looking for Close Reading Materials?
These reading passages and text-dependent questions were specifically created with the purpose of close reading in mind. The texts (both fiction and nonfiction) are complex and high-interest, and the text-dependent questions are written according to Key Ideas and Details (Monday), Craft and Structure (Tuesday), and Integration of Knowledge and Ideas (Wednesday).