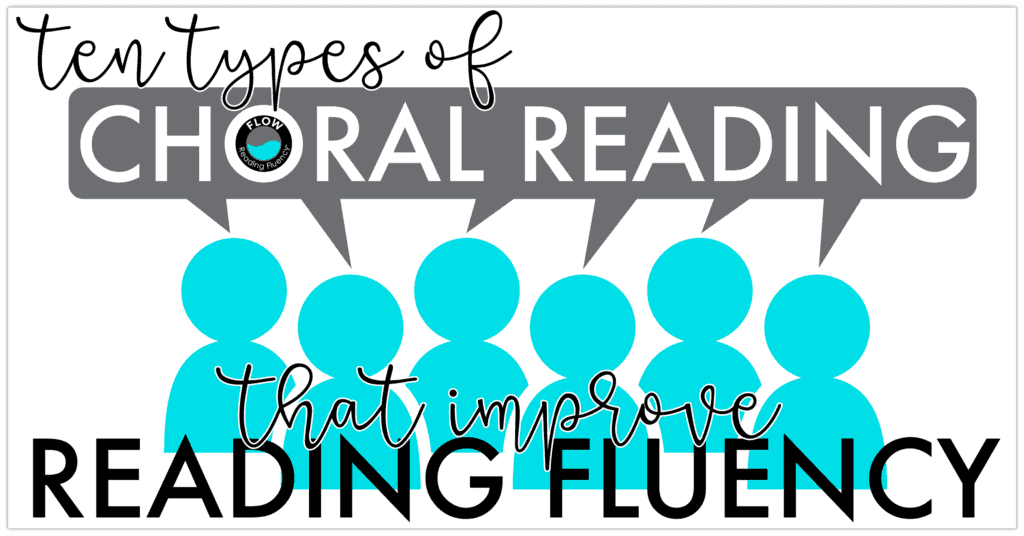 If you are looking for a fun and effective way to improve reading fluency, choral reading is your answer! This post will not just cover why you should incorporate choral reading in your classroom, but it will also provide you with 10 types of group reading that your students will LOVE. I will also send you 10 detailed lesson plans AND 50 poems that you can use with your students. And, just so you know, choral reading is not just for primary students; older students love it too. The lesson plans and poems you will receive in the email mini-course will work with students in grades 2-8!
What is Choral Reading?
Choral reading is a form of community reading that involves multiple readers reading the same text orally. Group reading can be done with multiple types of texts, but poems are perhaps the most popular medium to use. Poetry's melodic and rhythmic structures make for fun reading material that students enjoy reading aloud. Choral reading is NOT round-robin reading! Students only read orally when they feel comfortable doing so, and only after they have practiced the text.
Why Choral Reading?
Research supports that reading with others is one of the best ways to develop reading fluency (Rasinski, 2000). Choral reading allows more fluent readers to support less fluent readers, and thus improve reading fluency.
Group reading builds classroom community. Students feel that they are part of a team, which engages collaboration and camaraderie.
Choral reading improves prosody. Prosody (sometimes referred to as expression) is the rhythmic and tonal aspects of speech, and it is one of the most challenging of the four pillars of reading fluency to improve. However, choral reading provides students with the perfect opportunity to practice reading with the proper expression, intonation, pace, and pitch.
Students LOVE choral reading! Yes, even older students love it.
10 Types of Choral Reading


All the students read every line of text in unison. This is a great option to get started in your classroom. It also helps more reserved and less confident readers become comfortable with reading aloud. Students get instant auditory feedback as they hear their peers reading aloud as they read aloud too.


In this arrangement, one student reads specific parts of the text independently, while the whole group "chimes in" during certain points, usually key phrases or verses.


For this model, the number of readers increases (or decreases) as the text progresses. One student starts reading, and others join in at designated sections (predetermined lines or phrases) of the text.


With this arrangement, one student will read specific lines, stanzas, or verses alone. Initially, your more confident readers will volunteer to be the solo reader. However, after practice and repetition of the same text, less confident or struggling readers will volunteer, as well.


Place readers into two groups. One group reads their lines, and the other group responds with the lines that follow. This back-and-forth arrangement allows students to practice a text while maintaining consistent rhythm and smoothness.



For concurrent group reading, divide students into two groups. One group reads the poem, while the other group rhythmically chants a line from the poem. 

Assign each student a line, verse, or stanza from the text. Reserve some lines for all members of the group to read together.


Students can choose the lines they want to read, or the lines of the poem can be numbered 1-6, and a die can be used to assign lines. Whatever method is used to assign readers to lines, the groups just need to make sure that all lines have at least one member reading them.


The teacher or one student reads a line, and the class or another group reads the same line back. Students who are "echoing" must read the line exactly as the reader did, matching pitch, rhythm, and expression.


The class or group reads a line, and the teacher or student reads the same line back, matching pitch, rhythm, and expression.
FREE Lesson Plans and Poems!
Would you like to try out some of these activities in your classroom? I have created 10 step-by-step lesson plans (one for each type of choral reading) that I would love to send you! Simply enter your email address below, and I will send you all 10 sets of lesson plans and 50 poems!
Flow Reading Fluency is now digital! This is a reading fluency game-changer. 
No more standing in front of the copier.
No more managing student fluency folders.
And, best of all, no more stressing about how you're going to meet 1-on-1 with all your students for cold and hot readings.
That's right, now your students can complete their cold and hot readings independently when it's convenient for them and you. 
There's so much to share about this powerful program, so click here for all the details.